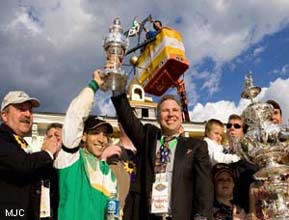 Welcome to the Preakness Stakes.
Congratulations to War of Will and his connections for winning the 144th Preakness Stakes in a time of 1:54.34. Unfortunately, there was no chance for a Triple Crown in 2023 with the unexpected events at the Kentucky Derby and the decision of Country House's connections to pass Pimlico. But you know what kids? THAT'S HORSE RACING! Looking forward to seeing you all in 2020.
The Preakness Stakes takes place precisely 2 weeks after the Kentucky Derby. Did you know it is easy to remember the dates, too. The Kentucky Derby is always the first Saturday in May. (Think "First Friday's" but make it "First Saturday's"). The Preakness follows 2 weeks later. Then, the Belmont Stakes is 3 weeks after the Preakness. Got it? Good!
We trust you enjoy the races and find something useful on our website.
Where is the Preakness Stakes? Pimlico Race Course
When is the Preakness Stakes? Saturday, May 20th, 2023
The Gates Open at 8AM EST and the First Race Post Time is 10:30AM
The Preakness Post Time is 6:05PM EST
Brief History of the Preakness Stakes
On a late summer evening in 1868, an agreement among sportsmen to stage a special race to commemorate a memorable occasion became the foundation for the middle jewel of racing's Triple Crown, the Preakness Stakes.
Governor Oden Bowie of Maryland, a horsemen and racing entrepreneur, was among the distinguished roster of guests at an elegant dinner party after the races at the Union Hall Hotel in Saratoga given by Milton H. Sanford, who had gained much of his wealth selling blankets during the Civil War. John Hunter of New York proposed that the feast be commemorated by a stake race to be run in the fall of 1870 for three-year old colts and fillies at two miles, to be known as the Dinner Party Stakes in honor of the evening. Bowie electrified the gathering by suggesting a purse of $15,000, a staggering sum in those days. Read More History Here
Preakness Stakes Today
Today, this marquee meet of the Maryland racing season will feature 27 stakes races for purses of $4.455 million. Purses for thirteen races were increased from a year ago, while just one was decreased. Fourteen of the added-money races, including all 10 of the graded stakes for the meet, are slated for Preakness week, including nine on Preakness Day.
"Springtime in Maryland is always an exciting time," said Lou Raffetto, Maryland Jockey Club President and Chief Operating Officer. "We believe that it will be even more appealing this year as a result of the nature of the program and increases in the stakes."
The Grade I Pimlico Special tops the May card that features four other stakes races. The Special's $500,000 purse helps make the day the third biggest on the Maryland racing calendar. Read more about the Schedule of Races HERE